Lessons From the Field – 3D Printed Face Shields

As the world continues to search for ways to fight against COVID-19, we are proud to see the Additive Manufacturing community stepping up and solving Personal Protective Equipment (PPE) shortages with innovative solutions. At this point in time, face shields are one of the most helpful 3D prints for healthcare workers. They're ideal because they directly impact workers on the front line and are simple to print and assemble. We recently shared how The World Fights COVID-19 with 3D Printing and have developed insights from printing and providing support to our customers who are 3D printing face shields that we'd like to share in this post.
Select an Approved Design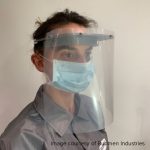 To support healthcare workers and first responders, the National Institute of Health (NIH) has partnered with America Makes, the FDA, and the VA to review and approve PPE designs in their Print Exchange. Our team has printed and supported customers who are utilizing the IC3D Budmen and DtM-v3.1 face shields found on the print exchange. These face shield designs can be used by healthcare workers as additional protection over their N95 masks while caring for COVID-19 patients. There are pros and cons to both designs and many hospitals and healthcare workers appreciate a presentation of options when selecting a face shield for their institution.
Source your Materials
Face shields have three main components, a visor, shield, and strap. Each part requires a different material and we encourage you to source each part before starting your production.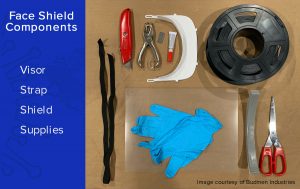 The visor can be printed in common PLA or PETG material. We've heard from several groups that PETG is preferred if the face shields will be reused and sterilized between uses.  The additional heat resistance and flexibility of PETG make it more durable. If you are printing single-use face shields, PLA will be adequate. If you haven't printed in these materials before, our Ultimate 3D Printing Materials Guide can help you get started.
When sourcing shield material, creativity is essential. The uptick in consumer production of face shields has led to constraints in supplies with many known vendors. According to Raymond Roberge of the National Personal Protective Technology Laboratory, the ideal materials for the shield are "polycarbonate, propionate, acetate, polyvinyl chloride, and polyethylene terephthalate glycol (PETG)." These materials have different properties that influence their behavior when cutting, bending and adapting them for use in a 3D printed face shield. We've found that most individuals that are printing face shields have easy access to clear PETG/PVC and acetate sheets when shopping online. One of the most helpful tips we've heard is to search for "clear binder cover". Often these binder covers are made of clear PVC and available in the appropriate sizes for face shields. If you choose to use a PVC shield, keep in mind that you shouldn't cut PVC on a laser cutter due to the noxious fumes that are released.
The woven elastic band to hold the shield on the face should be ½" wide for comfort. We've heard reports of individuals using large rubber bands in place of a woven elastic banding that is typically used in sewing projects. Either of these options should be readily available and easy to procure.
Optimize Your Print Settings
When 3D printing face shields, balancing speed and part integrity is essential. We have several tips for printing face shields that should get you up and running quickly.
Use Build Volume Efficiently
Optimizing part layout is critical to increasing the number of face shields you can produce in any given timeframe. The less amount of time you spend starting the next print, the better. Add as many parts to your bed as possible by using part orientation to your advantage.
Add Strength with an Extra Perimeter
Face shields have several areas where attachment points create thin walls and small tabs that can be made stronger with the correct settings. By adding a third perimeter, you can ensure your part will be stronger with less of a chance that those small sections will break off.
Use Single Extrusions for Thin Walls
These models contain sections where thin wall settings will be applied. Using the "Allow single extrusion walls" and "Allow single extrusion fill" options in the Advanced Tab of Simplify3D will ensure that small sections are filled with the correct amount of material, seen here in dark green.
Prevent Warping with a Skirt or Brim
Models with a large flat surface can be susceptible to warping. This may be noticed in the Budmen face shield more than the DtM version. An easy way to secure the print to the bed is to use a skirt or brim. Using a skirt offset of 0.2mm allows the skirt to hold the print down while still being easy to remove once the print is done.
Putting Your Print to Use
Once you have finished printing your part and gathered the required materials, it's time to verify the integrity of your print and disinfect the components.
Test for Part Integrity
A helpful tip provided by the Northern NY 3D Printing Network is to test the flexibility of your visor before assembly. To do this, flex the visor several inches in every direction and listen for any cracking or splitting of layers that might indicate your part has poor layer adhesion or inadequate infill. The tabs that secure the visor material should also be gently flexed to ensure strength. In the field, this face shield will experience demanding usage that requires every part to last an entire shift or more, so make sure it's strong!
Disinfect
Before you consider using or donating your face shield to someone else, you should make sure to disinfect the final assembly. There are many ways to disinfect the complete face shield, one of the most accessible options is bleach. Submerge the 3D printed parts in a 10% bleach solution for 5 minutes to remove any possible contaminants. The CDC has compiled helpful tips on this page.
Distribution
One of the final challenges after completing your face shield is getting it into the hands of the men and women that need it. If you are a business or non-profit that can produce NIH approved products, registration on their site is the first step you should take to distribute your face shields. If you are an individual, a nearby city most likely has an established group distributing PPE – a quick Google search should point you in the right direction.
During this challenging time continue to check back frequently for updates on how you can help in the fight against COVID-19. The Simplify3D team will continue to provide software support and be available to answer any questions.
Are you helping in the fight against COVID-19 using 3D printing technology? If you have participated in 3D printing efforts to support health care workers or know of new ways additive manufacturing is being used to combat COVID-19, please share your story with us at stories@simplify3d.com.