Simplify3D Version 5.1 Provides Key Print Quality Advancements and Expanded Machine Integrations

Today, we are happy to reveal the next iteration of our industry-leading 3D printing software enabling significant print quality improvements along with deep hardware integrations that turbocharge machine monitoring and management. The release also includes added performance gains, extra analysis features, and dozens of newly supported 3D printers making Version 5.1 our most capable release to date.
Print Quality Advancements
A collection of print quality features in Version 5.1 target the most visible surfaces of the print, achieving impressive surface detail in the areas that matter most. Intelligent anti-scarring options create a clean and consistent surface by removing unwanted marks and blemishes from the part exterior. Ironing capabilities perform a second finishing pass across flat surfaces to level out imperfections and create a significantly improved visual appearance. Monotonic infill settings carefully control the direction and ordering of each toolpath to create an exceptionally uniform texture. Additional customization options deliver fine-grained control over top layer speed, flowrate, and cooling, creating new opportunities for quality improvements on these highly visible surfaces.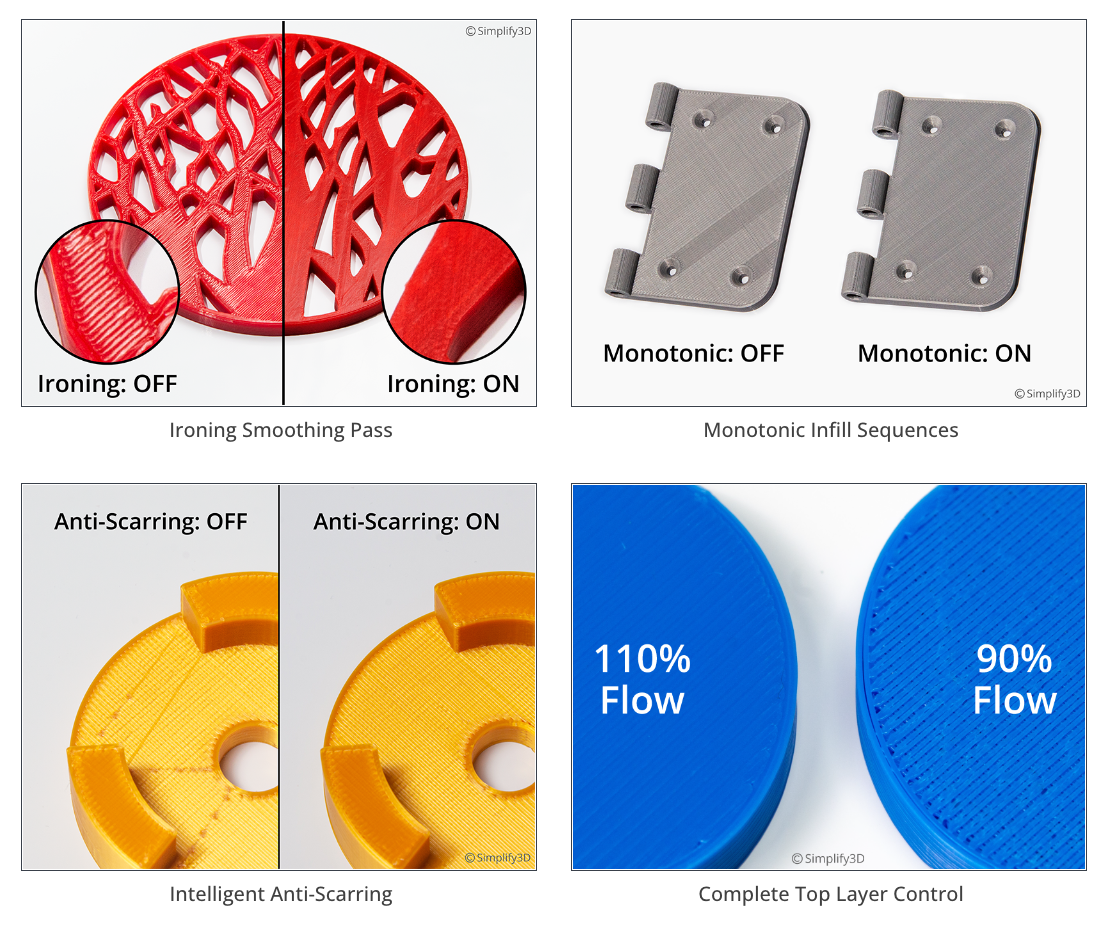 Expanded Machine Integrations
Expanded hardware integrations take advantage of new machine capabilities to make Version 5.1 our most deeply integrated release yet. WiFi and Ethernet compatibility has been extended to provide seamless integration with 3D printers powered by Klipper, OctoPrint, and Duet3D electronics. Connected printers are monitored through the powerful Simplify3D Machine Control Panel including a new Live Preview option which animates a visual simulation of the print that stays in sync with the current build progress. To further streamline the printing experience, exported build files can now include embedded thumbnail images for convenient machine operation and file management.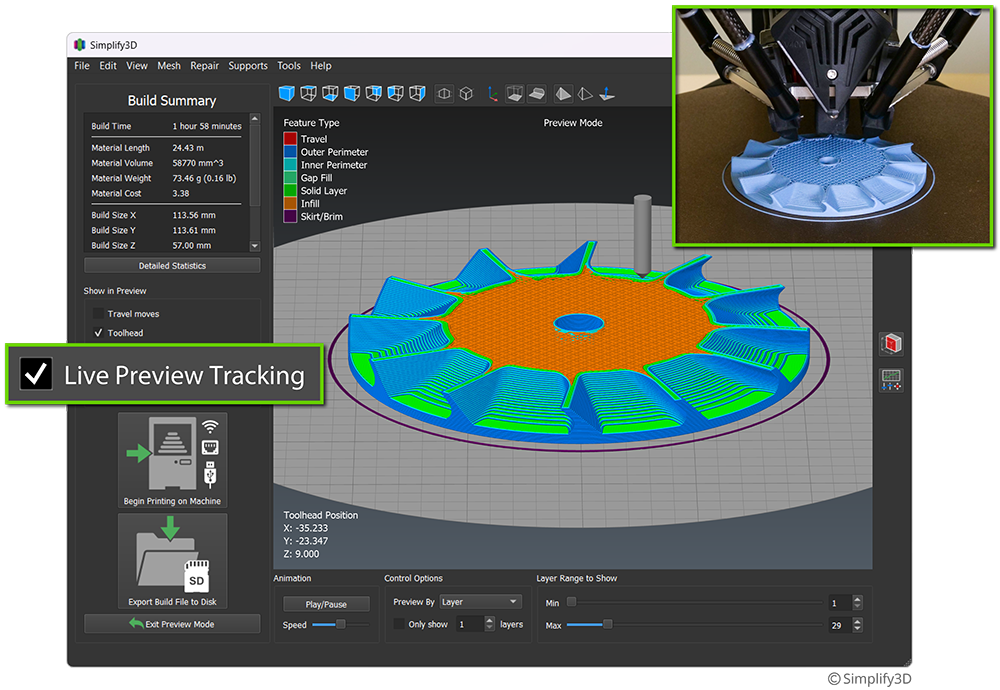 Additional features in Version 5.1 include native support for Apple M1/M2 architectures offering up to 20% faster performance on the latest generation of computers, as well as a new analysis option to display the cumulative scaling percentage that has been applied to each imported model. Finally, Version 5.1 adds support for more than 30 new printers, including real-time monitoring, optimized settings profiles, and full customization capabilities. Users can continue to rely on Simplify3D as their universal 3D printing software solution, providing advanced capabilities, unprecedented control, and seamless connectivity across a wide variety of machines.
Version 5.1 is available now for all Simplify3D V5 customers.  Click the link below to learn more about the new features in this release and start improving your prints today!