Lessons From the Field – 3D Printed Door Openers

Door handles are some of the most commonly touched surfaces encountered in your daily life. With a heightened personal safety concern, many in the additive manufacturing industry have started looking for a better solution. Thanks to innovators around the globe, there are now hundreds of "hands-free" door openers available allowing you to open a door using your forearm or elbow instead of your fingers or hands. Over the last few weeks, our team has worked with companies and healthcare institutions that are outfitting their own facilities with these "hands-free" designs. We've gathered best practices from working with these organizations while printing dozens of designs ourselves to help select the best models. In this post, we'll share our recommendations and the best tips we've found for creating your own high-strength door handles.
Select an Approved Design
Depending on the age and style of a building, there are a variety of door handle shapes and sizes. When selecting a design, factors such as the weight of the door, dimensions of the door handle, and any obstructions by the door frame or lock should be considered.
We have selected 3 lever-style door handle designs that have passed our testing and should fit the widest selection of doors. It's important to note that due to the screw holes, nut inserts, and door handle dimensions embedded in these designs, the models are not meant to be rescaled.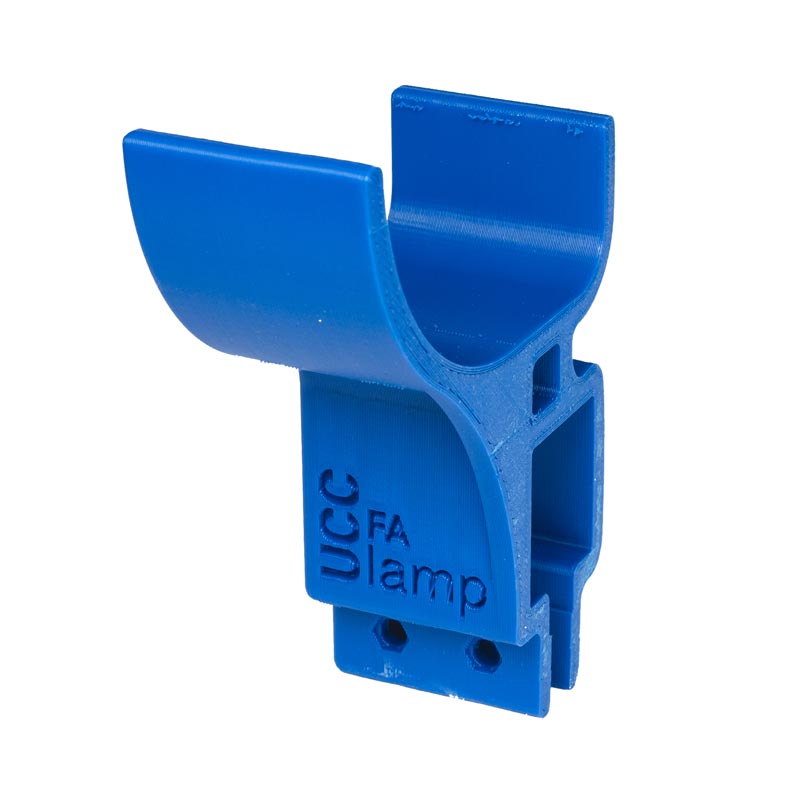 The MASSARD V1.0 is designed specifically for door handles that have a square cross-section. This design is ideal for doors that pull toward the user because of the curved arm. We found that the flat stiffening rib on the end gave the part good adhesion to the print bed. The Massard is the only design currently designated for "community use" by the NIH Print Exchange.
Materialise offers options for 12 different handle types from square, rectangle, tapered or cylindrical in all varying sizes. We selected 2 specific designs that stood out in our testing.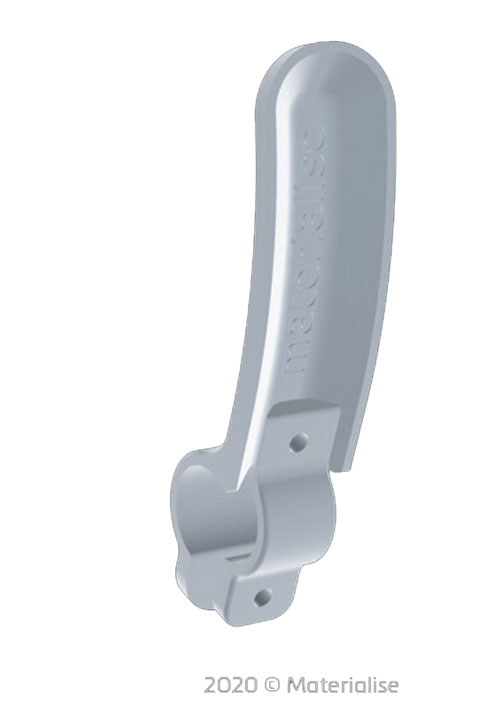 The Cylindrical Narrow version is ideal for handles attached to fairly light-weight doors that open without much force. This design does not require a lot of material and prints very quickly. If you are looking to outfit your home or office in a hurry, this may be your best option.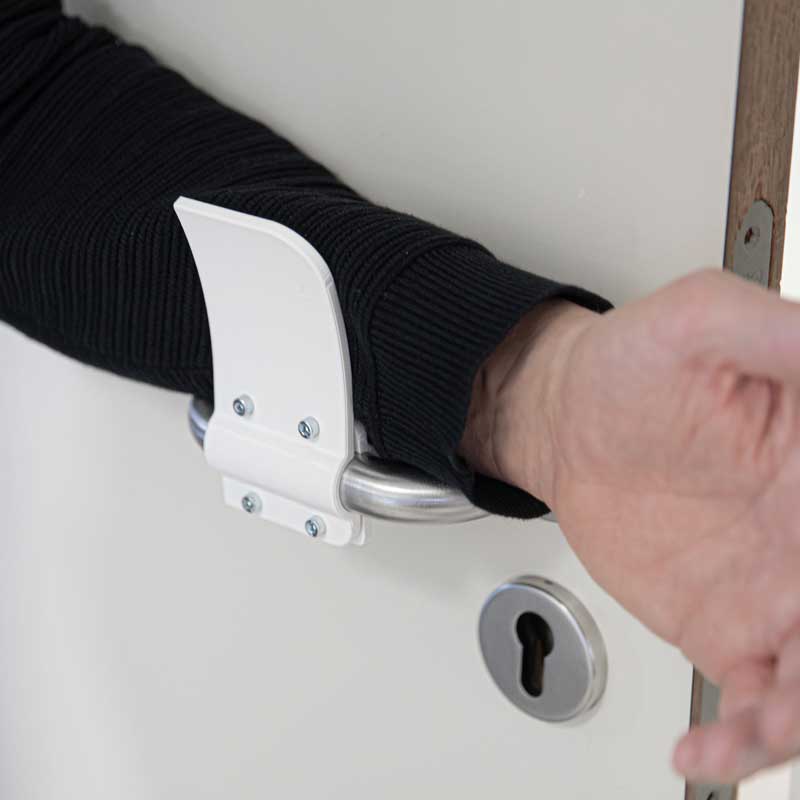 Our second selection is the Cylindrical Wide version. Due to its more robust design, it is best suited for commercial doors that require more force to open or doors used more frequently throughout the day. It requires a longer print time and more material than its Narrow version but will provide more strength and durability.
Source your Materials
"Hands-Free" door openers are typically printed in two pieces or less. Many designs require between two and four machine screws and nuts. These can be purchased at any hardware store, but be sure to purchase the exact size as recommended and remember these designs are not meant to be scaled, as that would alter the size of any bolt holes in the model.
Printing in PETG is preferred. PETG tends to be more durable than other materials like ABS and PLA. According to our Filament Properties Table, PETG scored higher in durability and is more flexible than PLA allowing for repeat use.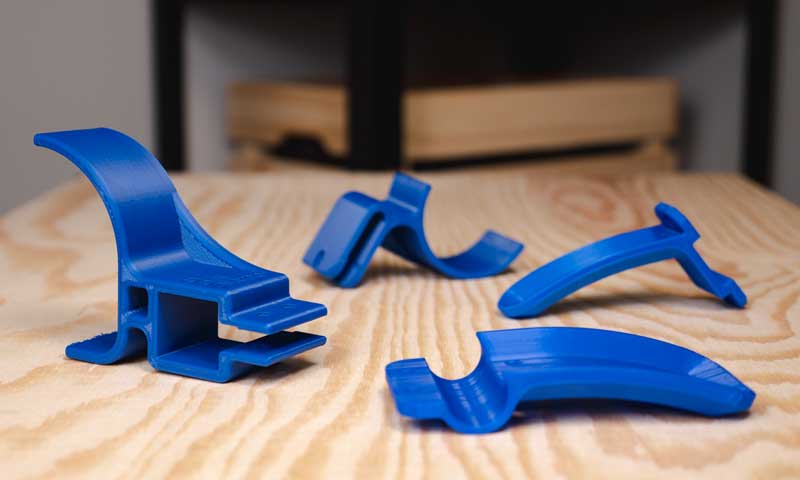 Optimize your Print Settings
Regardless of the design you have chosen, the ultimate goal is durability because of the high frequency of use a typical door lever sees. After weeks of 3D printing these designs, we asked our team to weigh in and provide their expert tips to set you up for success.
Place the Parts on their Side
By orienting the part on their side as shown in the screenshot, the printed layers will align with where stress will be placed on the print. The proper orientation of these layers will ultimately work to prevent snapping or breakage during repeated use.

Ctrl+L (or Cmd+L on the Mac) will allow you to click on a face to align it to the print bed. See how this is done in our

support video

.
Add Extra Perimeters
Increasing the number of perimeters will improve the strength of the door opener and is more cost-effective than increasing the infill density. Our team has found four perimeters make the part significantly more durable even if no other settings are changed.
Infill Pattern
Using an infill pattern like Grid or Triangular can improve the strength of your part as well. Unlike Rectilinear, these patterns have a stronger bond between infill layers because their complete pattern is printed on each layer.
Increase Temperature
Increasing the temperature 5-10 degrees from factory settings creates better layer adhesion resulting in a stronger and more durable print. Be aware that higher temperatures may increase the risk of surface defects and stringing, so you will want to balance these two factors.
Putting your Print to Use
Your completed print is nearly ready for use, but first, it's time to assemble and prepare your hands-free door opener.
Assembly
Secure the print to the door handle using your design's recommended screws, plastic seals, or zip ties. If you notice the handle is not secure, consider inserting a rubber band or other rubber/grippy material between the print and the door handle to make the piece more stable. Tighten the screws enough to ensure that the opener stays in place. Remember to not over-torque the screws as this may crack the plastic.

It is also very important to check if the device is compliant with existing safety codes of your building. Local fire and ADA codes often restrict what modifications you are able to make to ingress or egress doors.
Disinfect
If you intend to distribute the door opener, make sure you disinfect the completed assembly first. These may be the most used prints you'll ever make – sanitation is a must.

Door handles and hands-free door openers should be cleaned and sanitized regularly throughout the day. The CDC has compiled helpful tips on

this page

. During normal use, your fasteners may loosen and plastic may fatigue. While disinfecting, be sure to check that all fasteners are tight and your print is performing as expected.
Distribution
Hands-free door openers have been in high demand, but there are many different types of doors out there. Before you start distributing your door handles, be sure to send a prototype to ensure proper fit at the target facility. If all goes well, you can then move towards mass production.
As our world continues to change, be sure to check back frequently for the latest updates on how you can help in the fight against COVID-19. The Simplify3D team will continue to provide expert-led software support and be on hand to answer your questions.
Are you helping in the fight against COVID-19 using 3D printing technology? If you have participated in 3D printing efforts to support health care workers or know of new ways additive manufacturing is being used to combat COVID-19, please share your story with us at stories@simplify3d.com.