Lauren Angers Highlights 3D Printing Opportunities for Women in STEM
Enormous progress has been made since the first International Women's Day in 1909, but there is still much to be done, especially in STEM professions (Science, Technology, Engineering, and Math). The numbers bear out the gender disparity. Women make up half the college-educated workforce, but they comprise only 29% of science and engineering fields and 15% of engineers in total. There is still much to be improved!
For 2017 International Women's Day, Simplify3D salutes women who are changing those numbers by creating a path for themselves and opportunities for others. One such woman is Lauren Angers, who began 3D printing a year ago, and is using her skills and determination to teach others how to enter this growing field.
Lauren Angers Does it Herself
In May of 2015, Lauren had a "crazy idea to make a coffee table out of gears." This would be a challenging project for most people, but for Lauren, a talented DIYer and design expert, it was doable. "Without a workshop," she explained, "3D printing seemed like the most viable, not to mention the most fun, option."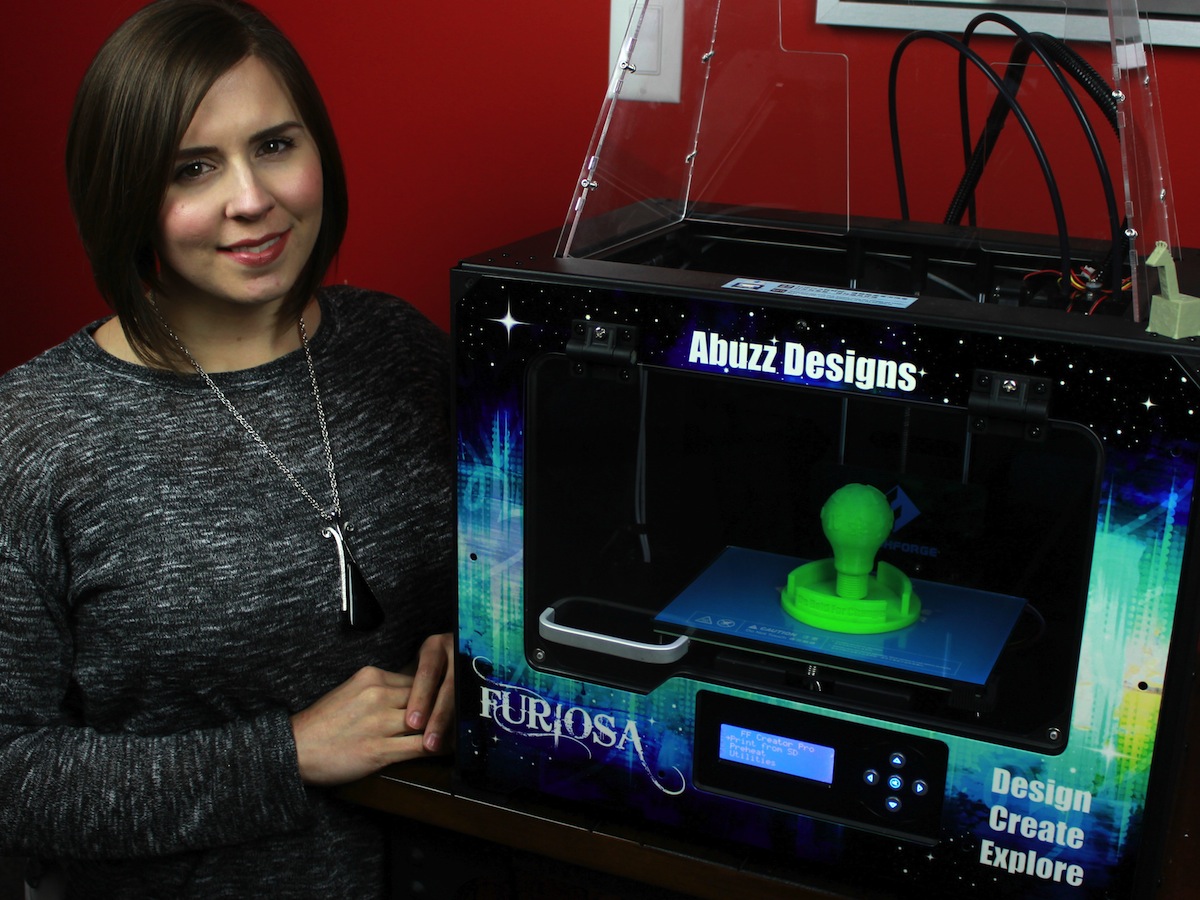 After getting her first 3D printer for Christmas she was off and running. She started her own company, Abuzz Designs, to promote her coffee table and other DIY 3D projects. The inspiration for Abuzz Designs started with something her mom drew almost a decade ago, the signature heart found in her logo and in many of her designs. "For Mother's Day last year, I thought it would be really cool to 3D model the heart and print it out for my mom, bringing her drawing to life.  Things expanded quite quickly after that.  I began filming videos and tutorials for YouTube, simply to share the information I had gained with others, in the hopes that if even one person found them helpful, it would be well worth it.  I am by no means a pro at this, I am learning right along with my viewers, and that's part of the fun!"
Her YouTube channel is a wonderful mix of DIY and exploration. She highlights the challenges and the frustrations of creation and design, and how those challenges can be overcome to create some amazing prints.
The Challenges of Forging a Path in 3D Printing
Lauren explained to us some of the challenges she experienced as a new maker.  The first challenge was, "figuring out what to do when you're stuck, where to turn, what questions to ask, and in general how to troubleshoot, whether it is a design that just won't come together, or a print that keeps failing.  In turn one of my biggest challenges was learning how to push yourself to break through those difficulties, especially when working with new design software or dialing in the settings of a new filament."
But overall, the "biggest challenge was learning the ins and outs of a new technology, one that I had not only never used or seen used, but one that I had barely even heard of prior to jumping in. There have been moments where printing has become a real test of my patience, but it has also taught me to look towards the feeling of accomplishment when you persevere through those frustrations."
Overcoming the Obstacles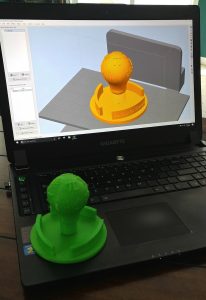 Lauren's YouTube channel and website help so many people pick up 3D printing and recognize that it is something they can accomplish. At Simplify3D, we're proud that our software helped Lauren become the printing guru and inspiration she is today.
As she tells it, "After being frustrated by the limitations of our previous slicer just two months into 3D printing, I purchased Simplify3D and haven't looked back." Her favorite features of Simplify3D include:
Manipulation of Process: I have a a lot of different processes saved, it helps me keep track of the different settings that I've dialed in without having to reinvent the wheel every time.
Multiple Process: I've been able to cut hours out of a print while not only retaining its integrity but also strengthening the areas that actually need it.
Preview: I've saved myself so much filament realizing there was an issue in the preview before actually printing
As Lauren says, "It is incredibly easy to use and so fast!  It cut down my slicing time drastically." We believe that faster prints done correctly means the ability to learn faster and to work quicker. It means being able to grow, to expand your skills, and to plow through any obstacles in your way.
Lauren's Advice
Lauren has some advice for women and girls looking to enter STEM fields: Don't wait for the opportunity to be handed to you. It might not be. You have to take it!
"It is incredibly empowering to be able to think of something, design it and see it come to life before your eyes or to come across an issue with a printer and fix it yourself.  3D printing is not just about the finished product or even the process of printing itself, it is more about what you learn along the way.  The possibilities are endless and I have no doubt that the next generation in the field of 3D printing will be able to change the world with their innovation and creativity.  As a woman in a male dominated field, I know it can be completely overwhelming to jump into something like 3D printing, but the community that encompasses the 3D printing world is full of the most helpful and accepting people, always there to help when you get stuck."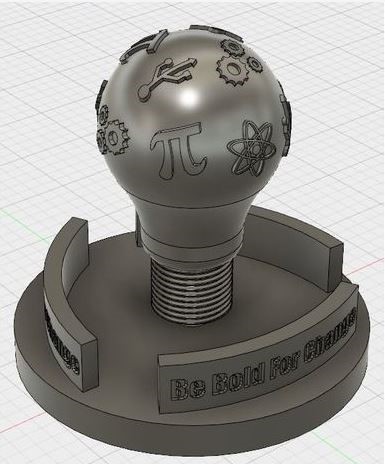 Lauren designed this model for International Women's Day. The light bulb has STEM symbols all over it and can be found here
We'd like to thank all the women that make up our Simplify3D community for their creative and challenging builds, their spirit of exploration, and their commitment to moving the field forward. Together, we're printing the future.
What are you creating with Simplify3D? Share your story with us at stories@simplify3d.com.