Restoring Excellence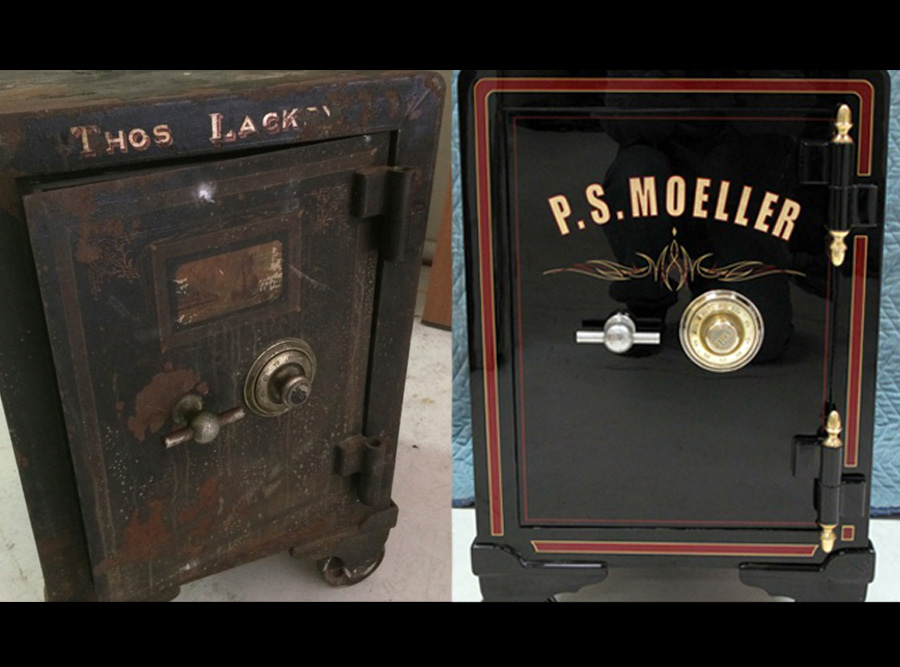 Jim Caruso, also known on the Simplify3D forum as JimC, has taken restoration to new heights. Jim tells us, "I had a 1920's safe in my shop for a complete renovation."  The safe had been submerged after Hurricane Sandy, a category 3 hurricane that resulted in $50 billion in damages to US eastern coastal areas in 2012.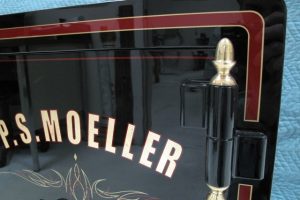 The owner wanted to return the safe to it's original condition, but recreating the brass hinge pieces was a dilemma. "As you can imagine, there are no parts available for something like this, but the final result of a restoration often depends on small details like these brass hinges, so I found a solution.  I modeled the hinges in CAD and used Simplify3D Software to print four PLA parts. Then I sent the parts to Matt Gorton at Printed Solid and he cast and polished new pieces in solid brass. This would have been a major problem without a 3D printer, but now these details are a piece of cake."
In addition to restorative work, JimC is a history buff. His 3D printing skills allow him to build accurate scale models, and then his painting skills turn the 3D model into a piece of historical art.  JimC's models are virtually identical to the original.
His recent WWII Bomb which was featured on 3DPrint.com.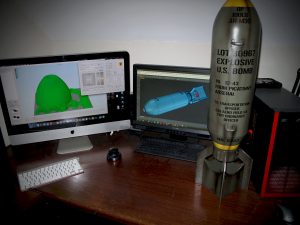 There are 18 separate pieces to the bomb and some pieces are really large. It takes a staggering 2 days and a whole spool of ABS filament to print one bomb. "I designed the parts to print easily so that only the fan blade and the "U" shaped pieces need support. JimC often provides support on the Simplify3D User Forum. He understands the interaction between settings and often makes detailed suggestions to help other users achieve higher quality prints.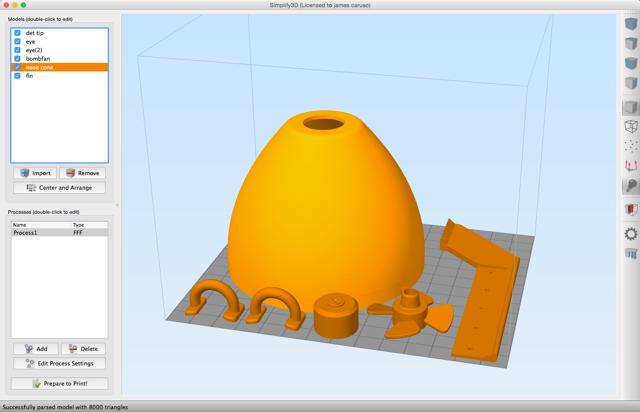 Here are the settings he used for the WWII Bomb, printed in ABS:
Temp 245C
Bed: 90C
Layer Height: 0.2mm
Infill: 25%
Extrusion Multiplier: 1.01
Retract: 2.0mm
Coast: 1.8mm
Wipe: 5mm
Shells: 2 @ 0.55 extrusion widths from a 0.4mm nozzle
Bottom Layers: 2
Top Layers: 3
Jim Caruso owns Xtreme Kreations, a custom paint shop specializing in show quality restorations, graphics and airbrushing. A year and a half ago, Jim added a 3D printer to his list of tools in the shop.