Ashley's Gold Box of Wonders
Ashley Webster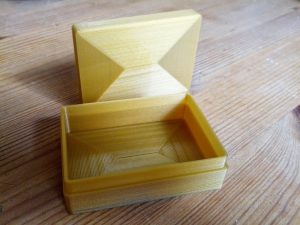 , a new Simplify3D user, has posted photos and settings for this incredibly beautiful box that was printed with PLA filament. The design and finish are striking. Kudos to Ashley!
What makes this tiny box so strikingly beautiful?  Ashley has learned to take advantage of a feature in Simplify3D Software called "Variable Model Settings". This feature allows you to modify the slicing settings for different regions of the same part.
For the bottom of the box, Ashley used 4 separate processes (4 sets of different slicing settings):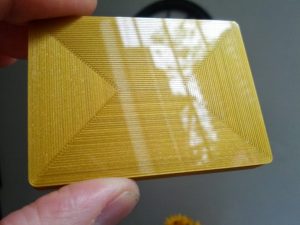 All at 0.2mm layers.
0-1.2mm: Concentric infill, 0.6mm width
1.2-1.6mm: two layers of rectilinear infill to close a small gap at the center of the concentric infill and make the bottom watertight.
1.6-2mm: two layers same as first set
2mm+: 0.45mm filament width and rectilinear infill, because concentric didn't work so well on the thin wall.
Commenters on Ashley's blog noted that the craft of 3D printing occurs in the slicing. What is so interesting is that Ashley has owned Simplify3D Software less than a month and is already on his way to becoming a slicing master. Kudos!
Ashley credits Richard Horne for inspiration he drew from his  blog post describing how PLA can be impacted with temperature changes. And Tom Martz for the painting technique to add sheen to the box top (painted with a layer of 1:10 pva solution; let it dry; then scrape it off).
A great example of what is possible with the right combination of hardware and software tools!