3DPros Delivers Cost-Saving Solutions for Rapid Prototypes
Today's demand for rapid prototyping challenges 3D printing service bureaus to develop new printing techniques that accelerate their response times. To meet this demand Al Billington and business partner, Daniel English, combined their engineering backgrounds with their passion for 3D printing to establish 3DPros LLC, a 3D printing service committed to providing entrepreneurs and innovators with full-size, affordable prototypes.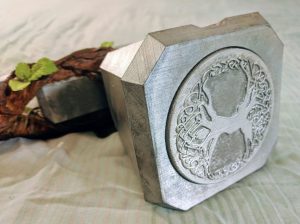 When 3DPros recently took on the challenge of recreating a life-size imitation of Thor's battle axe, Stormbreaker, inspired by the Marvel hit film, Avengers: Infinity War, they utilized a number of techniques to create a stunning print at a reduced cost. According to Al, "we used the techniques we've mastered in Simplify3D to reduce the print time from 23 to 15 hours without sacrificing on the quality of the detailing, and shaved 20% off the cost of our original quote."
Their success on this project resulted from the implementation of several techniques they have mastered to accelerate print speeds. 3DPros has learned to optimize slicer control for better, faster results. However, this optimization did not happen overnight. Al explains that they used a free 3D printing slicer when they first started printing but sought out better software options when the limitations of the free program resulted in the loss of a client. Al recounts, "We encountered an order where the software did not place support correctly, and there was nothing we could do in the slicer to fix the issue. This lost opportunity motivated us to search for a better option."  Soon afterward, Al discovered Simplify3D, and 3DPros now states, "Our slicer software of choice is Simplify3D."
Leveraging Full Control of the 3D Printing Process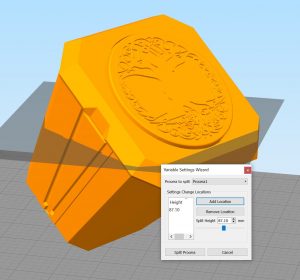 After switching to Simplify3D software, 3DPros gained significantly more control over their printing process, particularly in regard to their support structures. Al describes the changes he has experienced, "Two big improvements to our workflow are the ability to use 2x and 3x layer height support with low layer height prints, and the ability to use dense support. On average, these techniques save us 1-2 hours of print time." They also utilize the Variable Settings Wizard to adjust layer thickness when printing large, low-detail portions of a model to further reduce print time.
To prevent failed prints, 3DPros relies on several Simplify3D features that save time and money for their clients, including:
Preview Mode – Al loves to use the color-coded Preview Mode to spot mesh defects and correct them before printing.
Start Printing at Height – Using Simplify3D to resume a print at a specific Z height, Al states that he "rescues 1-2 prints a month, saving 5-10 hours of print time per print."
Manual Support Placement – Highly customizable supports allow 3DPros to ensure their print has adequate support and enables them to print at the best orientation possible to improve the quality of the details.
Impact of Professional 3D Printing Software
Equipped with a growing inventory of printers and professional 3D printing software, 3DPros has all the tools they need to complete print jobs in a fraction of the time. From industrial design and architectural models to product prototypes and hobbyist prints, 3DPros uses Simplify3D to provide high-quality, full-scale models to their clients. They can print model pieces in sizes up to 500mm, and they often break down larger prints into smaller pieces and print them simultaneously, shaving large amounts of time off their original estimates. They even managed to bring a last-minute, 50-hour project down to a mere 18 hours using a combination of software techniques and multiple printers. That kind of turnaround is sure to keep clients happy and keep 3DPros growing!
Read more amazing stories on our blog where we feature some amazing projects every month! What are you creating with Simplify3D? Share your story with us at stories@simplify3d.com.