3D Printing Life-Size Models with CADzilla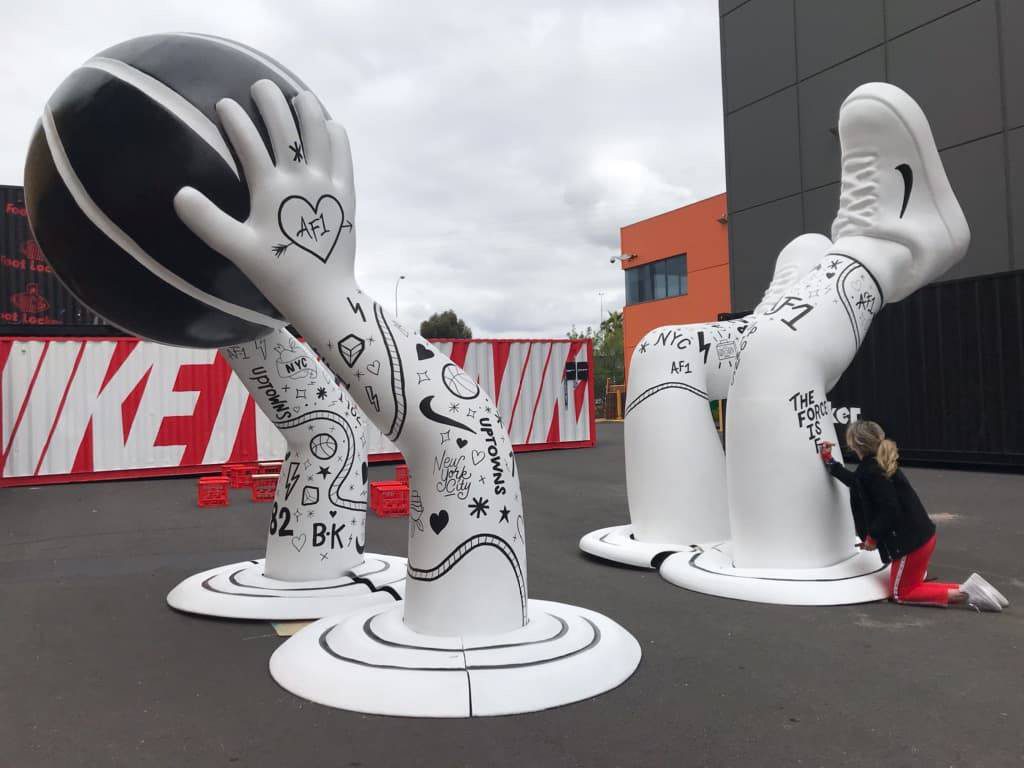 Australian model making company, Studio Kite, utilizes 3D printing to develop full-scale sets, props, and prototypes for their clients in film and advertising. With many larger-than-life projects requiring models well over six feet tall, Studio Kite custom built their own 3D printer, affectionately known as CADzilla, to accommodate these enormous prints. Using 3D printing, Studio Kite has automated much of their production process, and now produces cost-efficient, fully recyclable models for their clients.
Studio Kite has been in the model making business for over 30 years and is currently headed by company directors Steve Rosewell and Vikki Kite. Their backgrounds in fine arts and engineering fostered a fascination for robotics, automation, and 3D printing that would enable Studio Kite to revolutionize the way they do business.
From Subtractive to Additive Manufacturing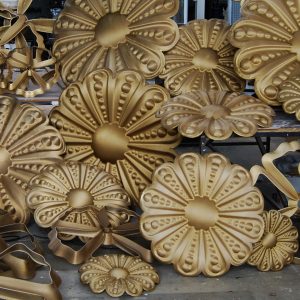 In 2004, Studio Kite purchased a six-axis KUKA robot, which allowed them to experiment with subtractive manufacturing. They programmed the robot to carve accurate, large scale items out of Polystyrene. Though they found the process successful, it resulted in a lot of wasted materials, so in 2016, they decided to retrofit the KUKA to 3D print their models instead. Studio Kite aimed to "replace the environmentally damaging Polystyrene process with fully recyclable ABS plastic with no loss of speed or impact on cost of production," reports Studio Kite's automation engineer, Dan Harcombe.
Trying to use their retrofitted KUKA to 3D print their models proved cumbersome, but the team pressed forward with the project. They began the search for software to assist them with the 3D printing process and quickly discovered a need for highly customizable, powerful software to handle the processing of such large prints. Dan recounts, "We tried a host of different software packages with limited success, but when we discovered Simplify3D, with its flexibility of custom scripts and its ability to handle large prints very quickly, we had instant success. And, with a constant flow of software updates, the prints got better and better."
Project CADzilla – The Monster 3D Printer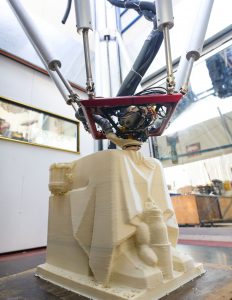 Though the team at Studio Kite managed to get successful prints from the retrofitted KUKA, they found the process too slow, and the build volume too small, for their needs. The idea of creating a custom large-scale 3D printer, "CADzilla," was born.
The team decided on a "final design that included a parallel robot with four sets of arms for added stability, accuracy, and safety." The team outfitted CADzilla with "an industrial automation computer, servo motors, linear bearings, and heavy-duty ball screws" for power and durability, explains Dan. CADzilla also includes custom firmware, kinematics, and an industrial extruder.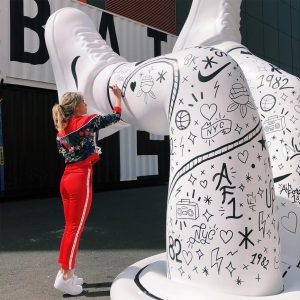 This custom-built 3D printing machine can print at speeds of up to 24m per minute and has a build volume of 2.4m x 2.4m x 2.5m, with the possibility for even taller prints by swapping out the printer's arms. According to Dan, "We use nozzle sizes up to 5mm, and layer heights ranging from 0.5mm to 3mm, this allows us to print a typical 2m (6.5ft) item in as little as 8 hours." He adds, "Our print size is only limited by what can be transported."
Studio Kite continues to create innovative designs using Simplify3D custom scripts, configurable G-code output, and firmware configurations. Dan states, "The software's ability to handle slicing massive objects quickly and displaying layer views without problems has been essential to our success."
A Sustainable Future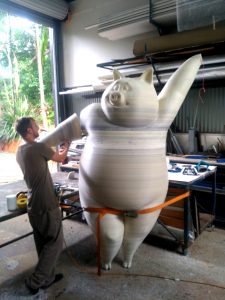 Studio Kite constantly looks for ways to make their models more cost-efficient and environmentally friendly. They continue to use ABS and other recyclable plastics with CADzilla, and now purchase commercially available plastic pellets, "which cost approximately 10% of typical filament." This significantly reduces the cost of the prints while improving its recyclability.
To take their efforts a step further, Studio Kite recently purchased a plastic chipper. They intend to use it to further reduce waste by breaking down and repurposing used models and plastics. It is their sincere hope that "one day soon, large props in films and advertising will be 3D printed and recycled, eliminating the landfill rubbish that plagues the industry." Learn more about CADzilla and Studio Kite's latest projects on their website.
Here at Simplify3D, we are always excited to share about all the incredible things our community is creating with 3D printing. Have you printed any gigantic or intricate models lately? We would love to hear about them at stories@simplify3d.com.