3D Printed Tribute to Formula One Icon, Ayrton Senna
Ayrton Senna, one of the most influential and skilled drivers to grace Formula One, died 22-years ago on May 1, 1994. For one devoted fan, the legacy lives on.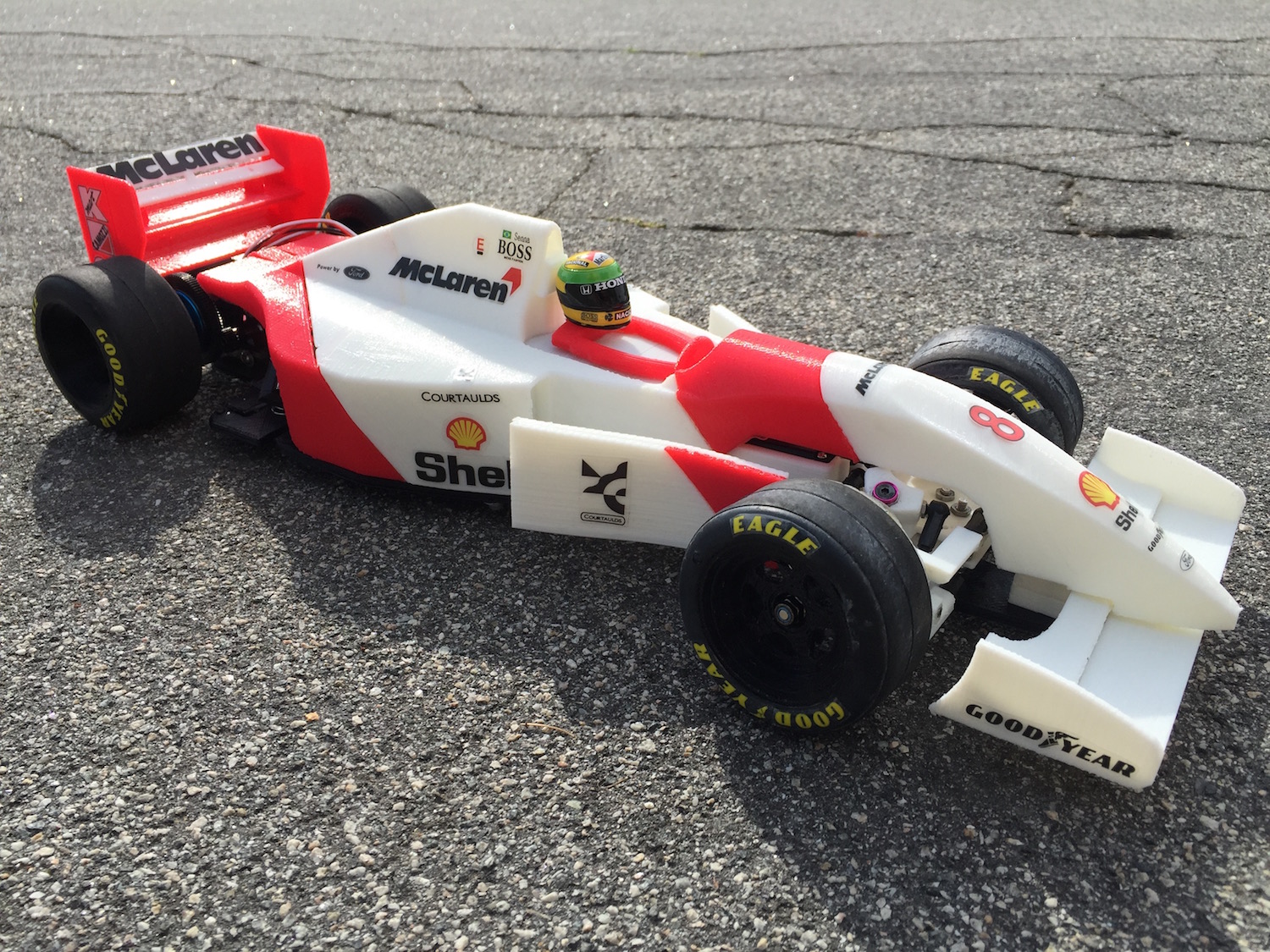 Car fabricator and composites expert Brett Turnage has been an automobile enthusiast his entire life.  Brett grew up close enough to the Historic Riverside International Raceway in Riverside, California that he has childhood memories of "sounds of engines filling the air."
After a quick lesson in 3D printing, he released his first unique design: the RS-01 Chassis for the OpenR/C F1 car. This new chassis paid homage to his historic hometown track ("RS"—Riverside Speedway), while allowing OpenR/C F1 owners the option to retrofit their cars with a completely tunable professional RC suspension featuring adjustable ride height, camber settings and a full live axle with adjustable Panhard bar and damper.  
A few days ago, Brett released his second design built upon the RS-01 chassis: Ayrton Senna's 1993 Mclaren MP4/8— one of the most beautiful cars in F1 history. The 3D printed version was a tribute to the great driver who died 22-years ago today (May 1st, 1994).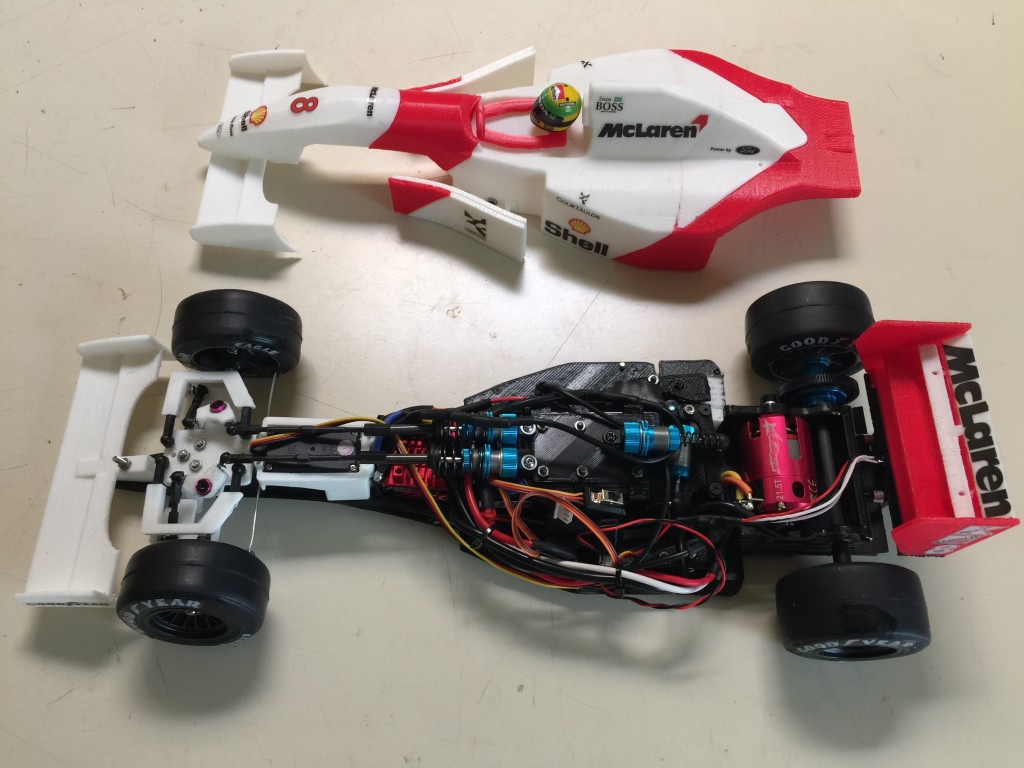 This new car is an evolution of the RS-01 chassis with a highly detailed body that is very accurate to the original car, updated RS-01 suspension parts, rims, and tires that can all be 3D printed. The chassis uses the running gear (carbon fiber rear shaft, differential, front uprights, motor mounts) from a Tamiya F104-ver. 2 Pro F1 RC race car that is readily available, and can use either foam tires, 3D printed tires, or rubber tires on either 3D printed rims or with the original F104 plastic rims.
In his quest for accuracy, Brett quickly became disappointed with the quality of prints provided by his current software. He describes the changes he observed after switching to Simplify3D:
"Immediately I noticed a difference with the way my machine moved along the paths as it built layers. No longer was my machine mindlessly moving, it was almost as if it was thoughtful — like it had eyes and could actually see what it was doing. It didn't speed through detail sections, it slowed down and went through them carefully. The retraction blobs that previously covered my prints were gone due to the smart retractions."
Brett modified the retraction settings in Simplify3D and was able to improve his print quality, and print all 54 parts to his RC car with both mechanical accuracy and high visual quality demonstrated in the photographs.
Simplify3D's support structures also helped Brett speed up the build process without interfering with the important visual aspects of the finished model. "The Simplify3D supports break off in your hands, whereas before,  I would have been sitting there with pliers trying to tear off the support material. I loved making this car, and I hope that others enjoy printing and building it just as much as I did."
Brett has provided his project to Thingiverse and Pinshape among other sites in order to inspire other makers and auto enthusiasts.
What are you creating with Simplify3D? Let us know at stories@simplify3d.com.