3D Printed Hand Gives 10-yr-old Boy New Powers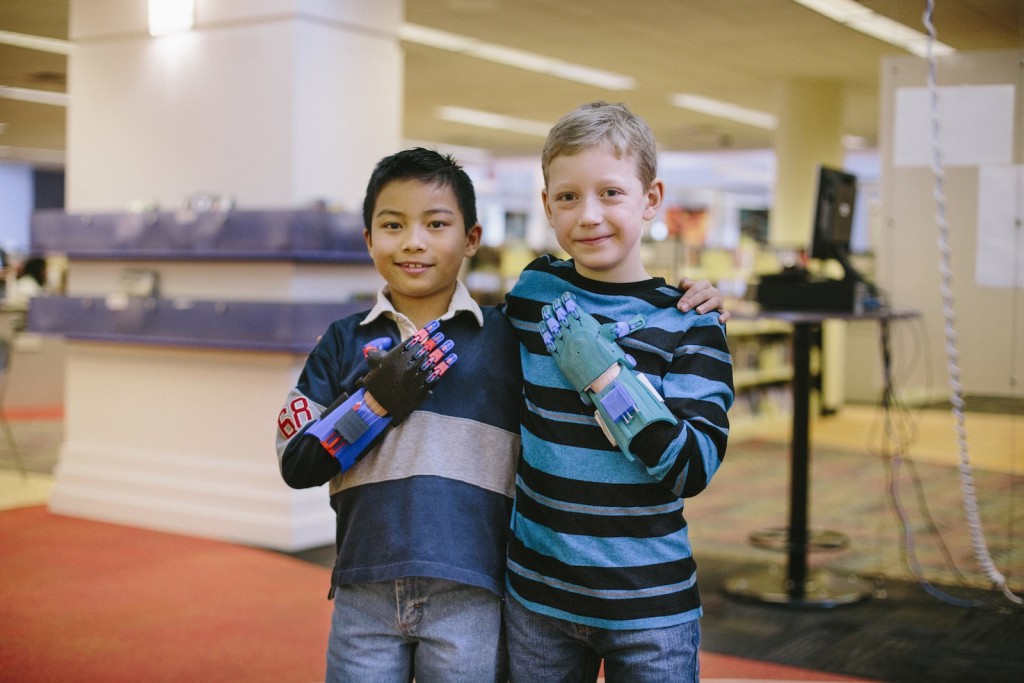 Peyton Andry was born with symbrachydactyly, a condition that caused the fingers of his right hand to be shorter than normal. Peyton is a confident young man who does many things that normal 10-year old boys do, including music, tae kwon do and basketball. Yet, he has felt the sting of awkward stares and fielded questions that are sometimes "annoying".
Through mutual friends at Simplify3D, Peyton was introduced to Luke Dennison, a.k.a. Little Cool Hand Luke, who was also born with symbrachydactyly. In 2015, Luke received national attention for his 3D-printed hand, which was printed by his father Gregg Dennison. Gregg is an avid volunteer for e-NABLE, a global community of 7,000+ volunteers who harness the power of 3D printing to solve some of life's most difficult challenges.
At first, Peyton had been hesitant to talk with adults about prosthetics. But the opportunity to talk with a young man his own age was a different matter. Luke and Peyton found many things in common. They talked easily about Star Wars, and in no time at all, Luke was demonstrating some of the super-hero aspects of his 3D printed hand, even allowing Peyton to try wearing it. Peyton's mother observed that "he seemed to blossom before our eyes", asking an endless stream of questions about the design and 3D printing. Peyton excitedly decided that he would love to try using a 3D printed hand like Luke.
Labor of Love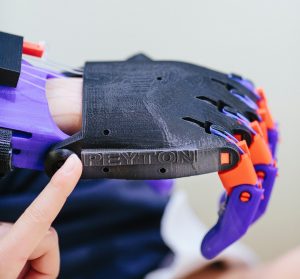 Printing a hand is a sophisticated 3D-printing project that involves time, labor and a little bit of love. The process starts with the selection of a design, which is made simpler through the e-NABLE organization. Next, there are steps to establish dimensional fit, prepare files for printing, print the numerous parts and assemble them. For Peyton's hand, there are approximately 30 individual parts that must be precisely printed. Simplify3D Software offers many features that were invaluable for this task, such as best-in-class support structures and quality controls that guarantee dimensional accuracy and a smooth finish. Additional software settings helped achieve strength in the parts to help the withstand usage of a typical 10-year old. The material cost for a hand may be about $50, but the investment of time is far more significant. Nearly a dozen volunteers were involved in Peyton's project, and all of them felt felt deep satisfaction through the labor of love and an investment in changing lives.
More than a 3D-Printed Hand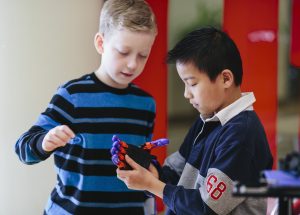 After a month of preparations, it was decided that "Little Cool Hand Luke" Dennison should have the honor to give the completed hand to Peyton. Keeping with the super-hero theme from their first meeting, the hand was carefully wrapped inside a Star Wars box. After opening the box and a super-quick hug between the young men, Peyton tried on his new hand for the first time. Gregg Dennison assisted with some fine-tuning and fitting, and in no time at all, Peyton demonstrated his ability to pick up a cup, play catch with Luke, and carry objects in both hands for the first time in his young life.
For these special families, a 3D-printed hand promises much more than the the sum of these 3D printed parts. "We don't want him to be judged for what he may be missing… we want him to be seen for who he is. Our hope is that he gets to be seen more for his character, his personality, and his heart," said Steve Andry, Peyton's father. "If anybody does that, they are going to fall in love with him like we have."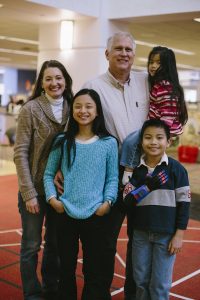 The Simplify3D team couldn't be more thrilled to have been a part of this project and to watch how 3D-printing technology, backed by a caring team of volunteers, can restore a young man's confidence and change lives. To learn more about Peyton's story, watch the full video below.
Do you know of an inspiring story like Peyton's that you would like for us to spotlight? Email us at stories@simplify3d.com.