The Business of 3D Printing Furniture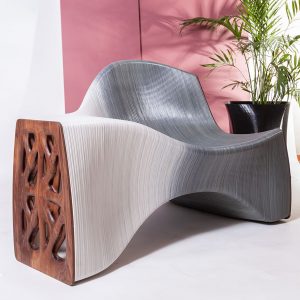 Model No. Furniture is disrupting the interior design industry with 3D printed, customizable furniture at the same price as pre-made furniture. By using large 3D printers, Simplify3D software, and sustainable materials, they provide customers with eco-friendly, made-to-order pieces within two or three weeks. With a continually expanding line, they print furniture and interior design pieces from small vases and planters to large coffee tables and lounge chairs.
Founders Vani Khosla, Jillian Northrup, and Jeffrey McGrew started Model No. Furniture out of their collective frustration with the slow and expensive process of obtaining personalized furniture. With an industry-disrupting vision, they became the first 3D printed furniture company to offer customization across their entire line of furniture products.
3D Printing Modern Furniture Designs
On their company website, Model No. Furniture offers a full catalog of furniture, where a customer can select a product and choose from a wide range of customizations. Once a customer has completed their design order, Model No. Furniture 3D prints the designs, which can then be shipped directly to the customer.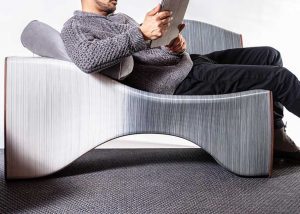 Model No. Furniture's custom-built  3D printers give them the competitive advantage of producing large-scale furniture pieces in-house. They can fill orders very quickly, printing even their largest products on one machine. Their large 3D printers are pellet-based, which allows them to print with color gradients and custom colors. Co-Founder Jillian Northrup explains, "Our 3D printing process allows us to produce a completely customized piece at the same price of an off the shelf item in two to three weeks. The amount of customization and unique designs we can offer the customer, paired with the speed and price point, is very competitive in the furniture industry."
3D printing has helped Model No. Furniture further its mission of creating sustainability in the furniture industry. "We mostly use PLA in our production process; an eco-resin material created from agricultural waste, like corn and sugarcane, that we can 3D print with. The material is completely recyclable and non-petroleum based. Our hardwoods & plywoods are sustainably harvested and finished with water-based and water-borne finishes," Jillian states.
Getting Faster and More Reliable Results
When Model No. Furniture started 3D printing, they quickly ran into trouble with their slicing software. Jillian explains, "We had difficulty generating spiral toolpaths with large extrusion widths. It seems the other software failed with the spiral paths because they were simply unable to calculate paths with very large nozzles, like 3mm." The Model No. Furniture team decided to look into other software options, and decided to switch to Simplify3D to print the model. "While other slicers fail with such a model, Simplify has no problems," Jillian describes.
One of Model No. Furniture's favorite features of Simplify3D is the ability to set processes by layer. According to Jillian, this feature allows them to accomplish several goals: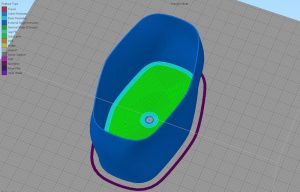 Improving surface quality , without compromising the strength: "Being able to alternate between these processes means that we can set specific parameters for the base of a model that is different from the walls. We use spiral slicing for the walls because it gives us a high-quality surface free from retraction marks."
Creating water-tight bases with over-extrusion: "Our vases feature a drainage hole and need to be water-tight. Setting different parameters for the base versus the walls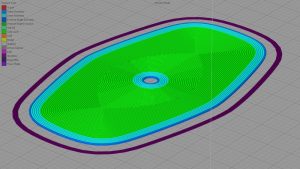 enables us to over-extrude on the base, which closes any small gaps that might otherwise cause the vase to leak."
Increasing strength with alternating infill patterns: "Additionally, we alternate base layers between linear and concentric fill to give the part extra strength and water-tightness."
Simplify3D has become Model No. Furniture's software of choice. Jillian adds, "The speed, reliability, and features of Simplify3D really enable us to do what we do the way we want to do it. Trying to achieve what we want with other slicers too often meant waiting longer for worse results."
The speed, reliability, and features of Simplify3D really enable us to do what we do the way we want to do it.
– Jillian Northrup, Co-founder of Model No. Furniture
With efficient and flexible development and the ability to get the results they want, Model No. Furniture continues to expand their line of products. They recently released a new line of lounge chairs to their website that features fashion-forward 3D printed designs and intricate CNC woodwork.
Simplify3D is proud to service and empower industry-disrupting businesses with software that allows them to reach their developmental goals. Tell us how your business is using Simplify3D to overcome obstacles and create new products at stories@simplify3d.com.