Simplify3D Co-sponsors Innovative Design Lab at Chicago's SAIC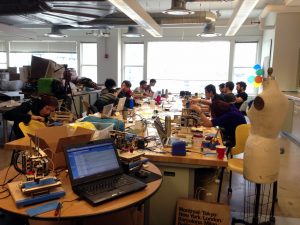 The School of the Art Institute of Chicago (SAIC) is accelerating the way students in their Designed Objects program incorporate 3D printing as an integral part of their design vocabulary. With the help of three key suppliers, SAIC succeeded in assembling one of the first individualized 3D classrooms in the world. Simplify3D was proud to supply the software, and join forces with
Printrbot
, supplier of the 3D printers and
Taulman 3D
, supplier of plastic filament.
This innovate teaching boot camp was conceived when SAIC instructor Brian Anderson envisioned a 1:1 interactive 3D printing lab that would allow individualized time for exploration, visualization and 3D prototyping. For 6 weeks, these students worked in an information-noisy, trial-and-error learning environment. At the end of the intensive 6-week boot camp, students produced videos that chronicled their visions, efforts and outcomes.
Using unconstrained thought processes, these students pushed the boundaries of 3D printing. For example, students incorporated textiles in their prints, or used delicate prints to create fashion. For other students, the printed output was incorporated into other materials and became the foundation of 3D art.
We might ask the same questions as the students asked: What if we printed clothing and everyday objects at home? What if the G-Code defining the construction of printed objects evolved and mutated like DNA? What if future intelligent printers anticipated our needs? It makes us ponder …what preconceived notions about 3D printing are already holding us back?