3D Print Your Own BB-8 from "The Force Awakens"
This is the droid you're looking for! A group of dedicated fans have recently released the STL files to 3D print and assemble full-scale replicas of BB-8, the new droid from Star Wars: The Force Awakens.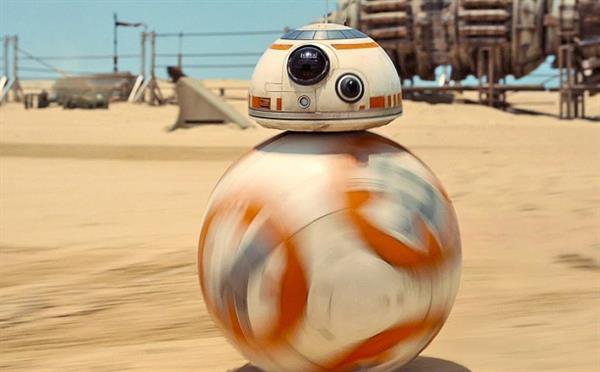 Star Wars fans have been building replicas of droid characters for years, typically using traditional production methods to achieve screen-ready quality. Recently, one creative group of global fans was inspired to use 3D printing to supercharge their team development efforts. Members of the group saw the new Force Awakens droid BB-8 for the first time in April 2015, and its design seemed perfect for 3D printing. Thus, the BB-8 Builders Club was born. In a new twist on the time-honored tradition of building droids, the club has been using rapid prototyping and 3D printing to create their projects. They've even helped a high school robotics class build their own droid!
New droid, new build process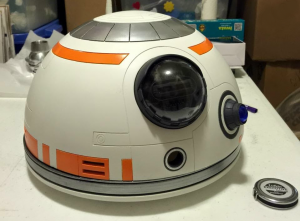 Faced with the exciting challenge of creating a high-quality, full-scale BB-8 droid, builder Michael Erwin and developer Tiny Panganiban collaborated from opposite sides of the world to design 3D models and build their prototype parts. Taking advantage of their 12-hour time difference, the two created a unique development process: Tiny would upload his latest design files, then Michael would test them on his 3D printer using Simplify3D and provide feedback within a 24-hour period. As they got further into the process, they acquired more 3D printers to optimize the part quality and construction time. This allowed rapid development and iteration that energized their entire droid building organization.
Michael saw an opportunity to improve the speed and efficiency of the entire BB-8 Builders Club using Simplify3D. "We realized that many of the club members were using different slicing software packages. We were having difficulty communicating in a common language," he explained. In addition, many desktop 3D printers use different default software or file formats, making collaboration that much more difficult. However, by standardizing and recommending that all club members use Simplify3D, the entire team can quickly open and print the files on virtually any desktop 3D printer. The universal Simplify3D interface has also allowed them to rapidly solve several 3D printing quality issues. Michael describes the benefit to his team by saying, "Simplify3D is simply the fastest way to improve the quality of their prints and make their lives easier."

The club publicly released the STL files for the BB-8 droid in October 2015 (under Creative Commons International 4.0 SA BY NC) so that makers everywhere can print the new design with confidence. On October 8th, the BB-8 Builders Club was officially recognized by LucasFilm Ltd, a day that many members proudly refer to as "October BB-8th." Since then, the club work has also been featured on StarWars.com, Tested, and the Discovery Channel. In addition to sharing their sophisticated BB-8 design with the world, the club is even helping the robotics class at a Texas high school bring BB-8 to life — they donated filament and Simplify3D Software so the seniors can build BB-8 as a class project!
Building your own BB-8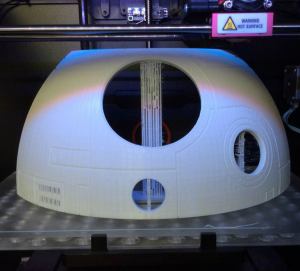 The designers have compiled comprehensive instructions explaining how to create BB-8's domed head and spherical body. Although the dome's design has been more extensively refined, the preliminary instructions are now available for the body, as well. All parts of the BB-8 design can be created using 9 in. x 6 in. x 6 in. print bed (22.5 cm x 15.25 cm x 15.25 cm), although many of the smaller parts can be printed on smaller build surfaces.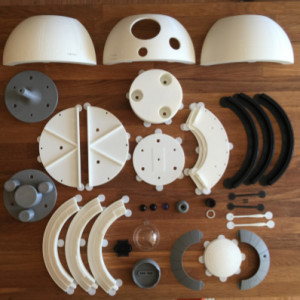 The club's BB-8 instructions contain recommendations for filament, slicing settings, materials, and post-processing. For instance, they recommend printing parts using 5 or 6 shells (approximately 1.2 mm), hexagonal infill of 10% to 15%, and a 0.2 mm layer height. The main panels of BB-8's dome can be printed in either three or four sections, depending on the size of your 3D printer. All the dome's components take around 65 hours of print time.
The club leaders are developing two versions of BB-8's body: a simpler "stage" version and a more detailed "static" version. Round center panels, orange rings, and white triangular panels are printed and fitted together like a puzzle to create the spherical shape. Files and instructions are currently available to build the body, but the club advises its members that testing is ongoing and they should check back regularly for updates.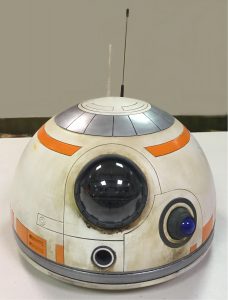 Although most of the features of the BB-8 droid are 3D printed, some others (such as hardware, LED lights for the radar eye, etc.) must be purchased separately. In addition, sanding and painting is required to achieve a finished look. Builders can choose to leave their BB-8 looking clean, shiny, and new, but the designers recommend adding weathering effects to give the impression BB-8 has been through many adventures in a galaxy far, far away.
The STL files for BB-8 are free and available for download from the club's Facebook group. Building your own full-size BB-8 is certainly an ambitious undertaking requiring many hours of 3D printing, assembly, and post-processing. Thankfully, there is plenty of support and encouragement to be found within the BB-8 Builders Club, which has rapidly grown to more than 1,800 members in 27 countries.
Best of luck building your very own BB-8! May the Force be with you.