Buy Now
The ultimate tool for additive manufacturing with powerful features and intelligent automation to help with each step of the 3D printing workflow.
Build Preparation Software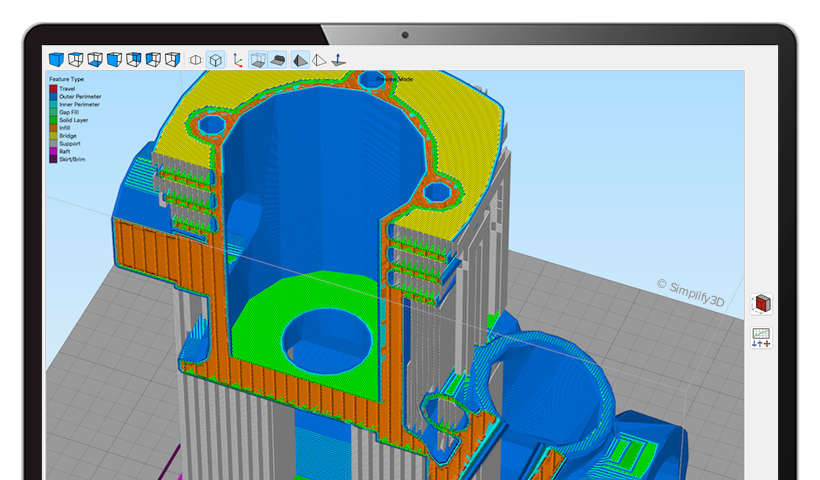 The Simplify3D Advantage
Simplify3D is the leading commercial 3D printing software preferred by engineers, designers, educators, and enthusiasts worldwide
The Simplify3D Workflow
Simplify3D is packed with features that help you through each step of the 3D printing workflow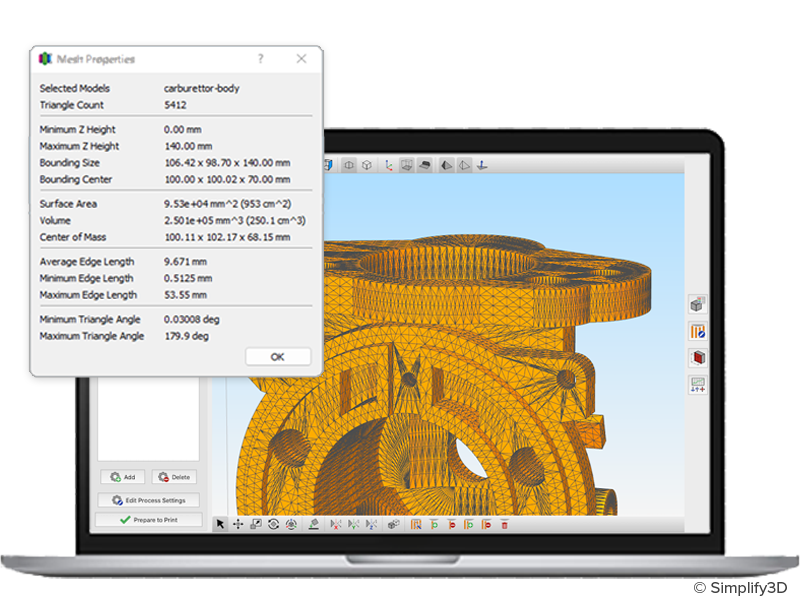 Import and Repair
Efficiently import 3D model files and analyze the geometry for potential mesh errors that could impact the print. A powerful geometric engine gives you the capacity to handle massive multi-gigabyte files with tens of millions of triangles so that there are no limits to the complexity you can create. Detect and fix common issues including holes, thin walls, or self-intersections that would otherwise create significant problems during printing.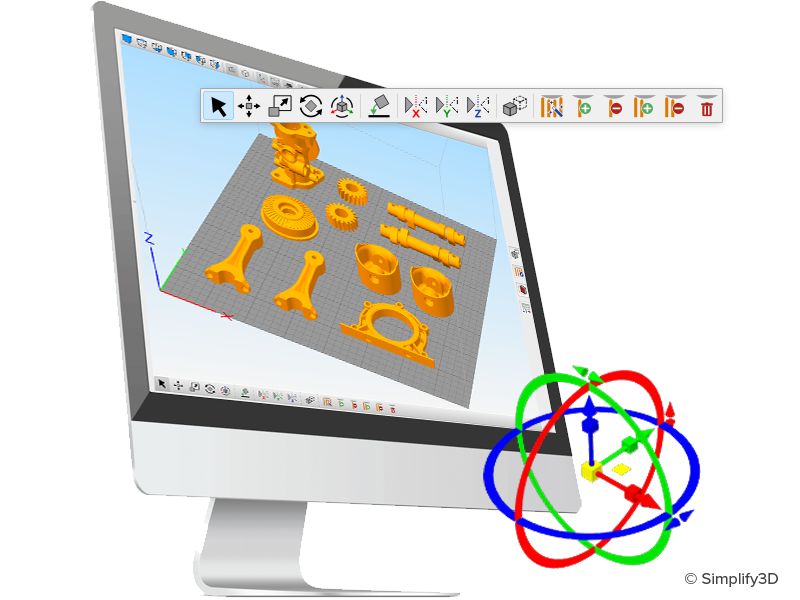 Orient and Arrange
Move your models into the ideal printing position with best-in-class tools for orienting, arranging, and packing. Optimize build efficiency by nesting hundreds of parts on a single build platform, or interactively manipulate a single part to find the perfect orientation for improved print quality. Common issues such as out-of-bounds geometry or incorrectly positioned parts are automatically identified to prevent costly failures.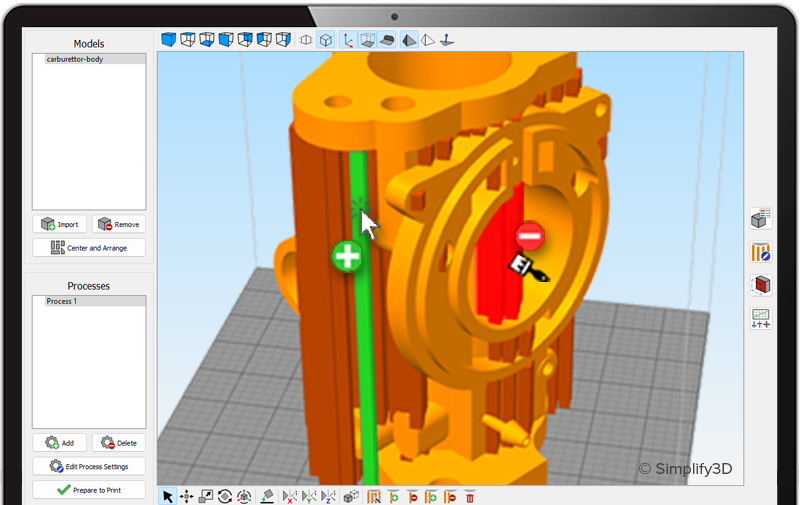 Support Generation
Patented support structure capabilities offer superior results with an unprecedented level of control. Automatically generate support structures with fine-tuned parameters, or completely customize support location and shape using rapid editing tools. Upon print completion, the sacrificial supports effortlessly separate from the final part with such impressive results, you have to try it to believe it!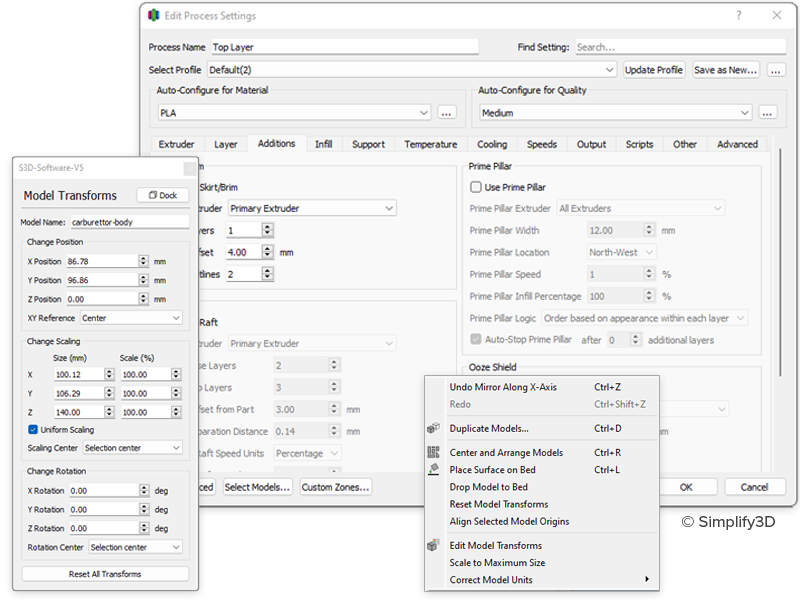 Build Customization
The difference between a good print and a great print comes from the level of control you have over the printing process. Simplify3D offers extensive control capabilities far beyond other applications. Our unique process system enables streamlined settings customization for specific parts or regions within a single part. Intelligent software algorithms dynamically adjust common parameters including layer thickness or infill density throughout the print to reduce material usage without compromising our industry-leading build quality.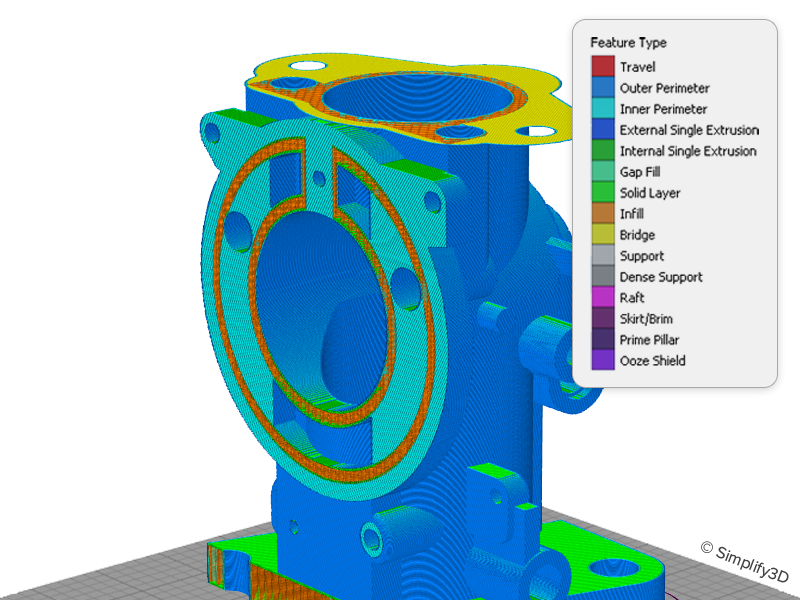 Slice and Preview
More than a decade of research and development has led to one of the fastest and most capable slicing engines ever designed. Precise machine-specific instructions are generated while incorporating complex real-world physics to optimize the quality and strength of each part. Build files are verified using our advanced Preview Mode which offers an incredibly realistic view of the exact size, speed, and properties of each additive instruction – generating valuable insights about the printing process before it even begins.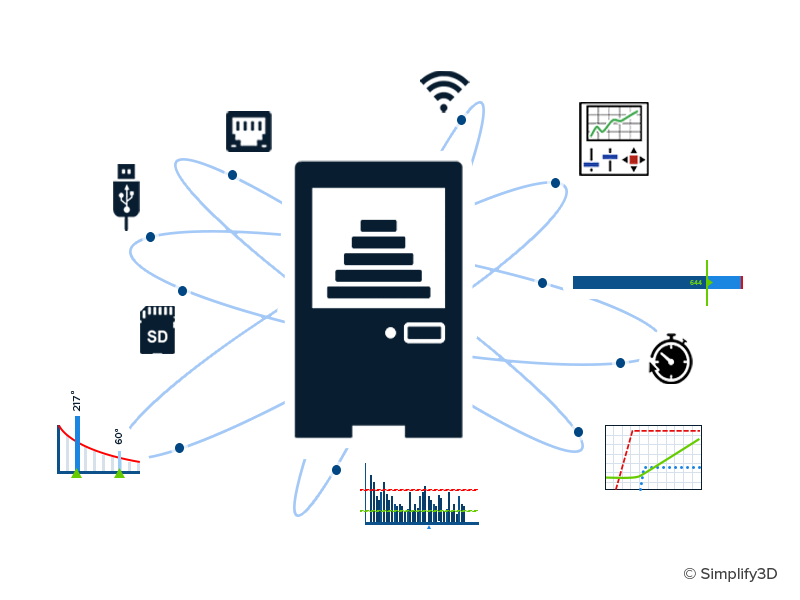 Control and Monitor
Simplify3D directly communicates with hundreds of popular 3D printers, allowing you to control and monitor your machines using USB, WiFi, or Ethernet connections. Initiate a new print or track important sensor readings from the comfort of your desktop. Perform critical maintenance tasks with ease using a robust machine interface that is customized for the capabilities of each unique printer.
Unrivaled Compatibility
Simplify3D has worked closely with OEM partners around the world to seamlessly integrate our software with hundreds of popular 3D printers. Our in-house experts optimize the settings for each machine to ensure customers achieve exceptional results right out of the box! Click below to see if your 3D printer is supported.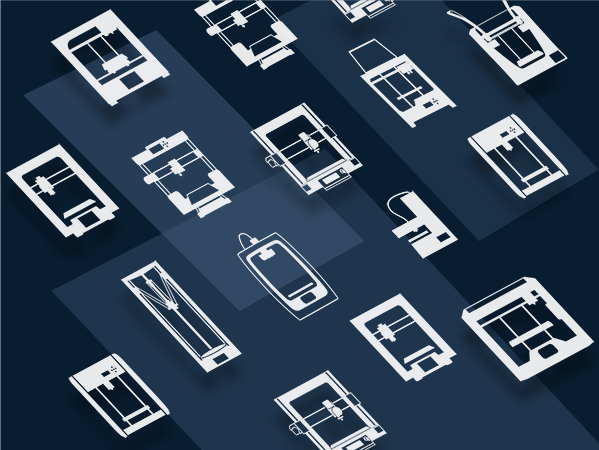 Advanced Features
Power users will find dozens of advanced features designed to push the limits of quality and efficiency
Adaptive Layer Height
The software optimizes the thickness of each layer based on the model topology to improve surface quality and reduce print time.
Variable Part Settings
Our unique process system enables you to define different settings for specific regions of a single part, giving you complete design freedom.
Automatic Seam Hiding
Intelligent logic selects the ideal start points on each layer, hiding unsightly seams and defects to ensure the highest quality surface finish.
Dynamic Extrusion Sizing
Unique logic dynamically adjusts the size of each extrusion to perfectly recreate thin features with improved accuracy and strength.
Custom Support Shapes
Easily define custom shapes for support structures to provide the perfect foundation while avoiding unnecessary surface defects.
Dynamic Infill Density
The density of the interior fill can be automatically increased near the surface to create a strong exterior while reducing overall material usage.
Small Feature Reinforcement
Intelligent algorithms automatically identify and reinforce small features to improve part strength for fragile regions.
Automatic Mesh Repair
Many common mesh errors are repaired automatically in real-time during slicing, saving valuable time when dealing with imperfect models.
Powerful Scripting Engine
An integrated scripting engine makes it easy to insert custom commands, modify existing sequences, or customize output files for new applications.
Expert Resources and Support
Our 3D printing experts have produced dozens of world-class guides to help customers with common topics including print quality troubleshooting or material selection. If you still have questions, contact our experts directly to get your questions answered!
Start improving your print results today!
System Requirements
Windows 7+
Linux Ubuntu 64-bit
macOS 10.13+
Licensing Options
Standard License
Floating License
Offline License
Language Translations
| | |
| --- | --- |
| French | Japanese |
| German | Portuguese |
| Italian | Spanish |